Discover the top free online collaboration software in this post.
The market for collaborative platforms has actually expanded since the emergence of telecommuting as a result of the covid-19 issue.
If you work on team projects or just cooperate on a variety of projects, it is critical to have tools in place to make your job simpler both remotely and in person.
There are hundreds of collaboration tools available today, and it can be challenging to navigate them all and choose the best one for you and your team.
We'll look at the top collaboration tools on the market and how to pick them.
What is an online collaboration software?
An online collaboration software, or collaborative tool, is a software that allows you to meet online to perform different tasks in a more productive way.
For example, a collaborative platform can allow you to make video calls with your colleagues, to manage projects remotely, to manage your colleagues' tasks or even to create content together.
As you can see, the market is vast and full of practical tools that will make you more productive.
Top 9 best free collaboration software
monday.com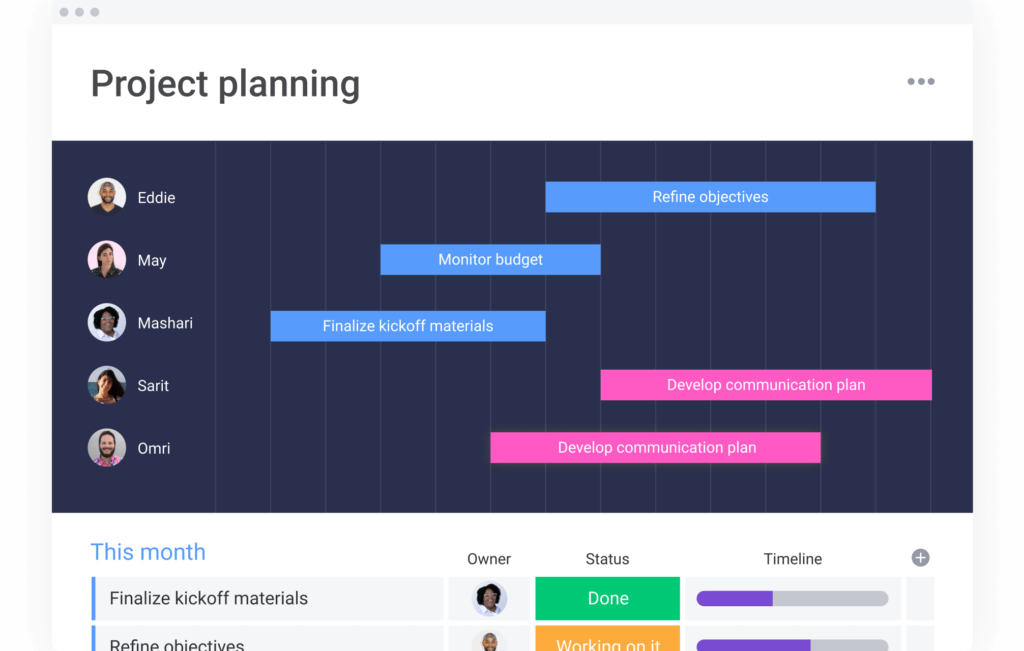 monday.com is one of the most famous free online collaboration software on the market.
Indeed, monday.com allows you to work remotely and collaboratively with your whole team.
monday.com has a work OS based on a system of templates that can be adapted to all your use cases.
The interface of the platform is just streamlined and intuitive which makes it a perfect tool for the less digital members of your team.
Some of the main features include:
Document management
Kanban board
Gantt chart
Dashboarding
Integrations
monday.com is suitable for both small and large companies.
The advantage of monday.com is the free forever version which allows unlimited free testing of the platform up to 2 users.
Teamleader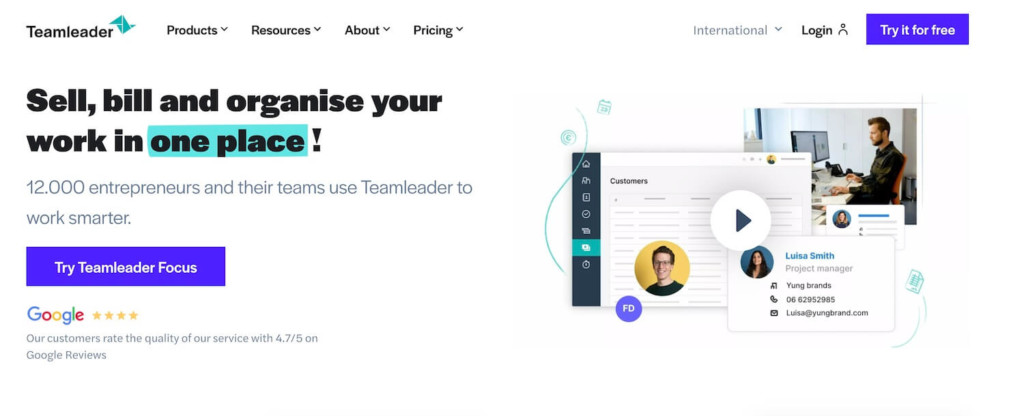 Teamleader is a collaborative project management software that is very easy to use.
In addition to being a project management tool, Teamleader is more like a true ERP, that is, a complete collaborative business management software.
Among the main functionalities of Teamleader, we find :
Customer management (CRM)
Project management
Kanban mode
Creation of quotes/invoices
Full collaborative mode
Receive payments
Teamleader is therefore ideal if you want a tool to do everything.
Beware though, Teamleader does not have a chat or video conferencing functionality.
In terms of price, there is no free plan and the first paid plan starts at 15€/month/user.
Clickup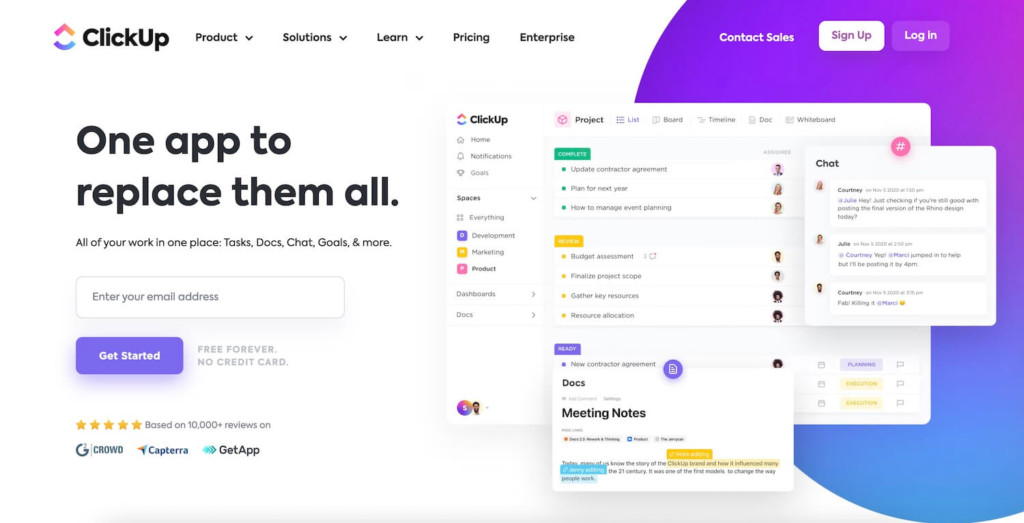 Clickup is a highly scalable online collaboration software.
Indeed, Clickup is intended to be a replacement for all of your other applications.
That is, Clickup wishes to satisfy all of your demands as an enterprise.
Clickup can handle tasks, projects, files, time tracking, and many other things!
Again, the program is incredibly user-friendly and is available in SaaS form, making it very easy to communicate with your partners.
Clickup is free for personal use, but if you want to invite your team, you must choose a subscription plan at $5/month/user.
Zoom
Zoom is a well-known online collaborative video-conferencing platform.
Indeed, Zoom was a major success during the COVID-19 crisis, establishing itself as the premier video platform.
Zoom is thus great for making video calls with your coworkers.
However, you must download the program straight to your computer, and each of your coworkers must do the same.
Today, this might be a bit of a problem because technologies like Teams or Meet allow you to host a video conference right from your browser.
Teamwork
Teamwork is definitely one of the best online collaboration software, with all the features you could want!
Teamwork, in fact, addresses both communication (video or audio conversations, chats) and organizational and project management demands.
It is the only platform on this list with this many features.
Teamwork may be viewed as a one-stop shop for remote work.
Teamwork's primary characteristics include
Project management in a group
An overview of task progress
Timekeeping
Task administration
Teamwork is accessible for up to 5 people for free. However, not all functionalities are accessible.
The initial premium plans begin at 10$ per month per user.
Slack
Slack is a free online collaboration software specialized in corporate messaging.
Indeed, Slack's signature feature is its collaborative chat, which is currently employed by nearly all startups.
However, unlike monday.com or Clickup, you will not be able to manage your projects or tasks directly through Slack (unless you install a plugin), and it is not intended to.
In fact, we recommend that you exclusively utilize Slack for your company's internal written communication.
Airtable
Airtable may be thought of as the next version of Microsoft Excel.
The collaborative tables are, in fact, the foundation of Airtable.
In fact, you can build table-like documents in a team and communicate seamlessly in project or task management mode, exactly like Excel or Google sheets.
Furthermore, Airtable provides a variety of perspectives to help you improve your productivity and perceive your projects in new ways, such as the kanban mode, gantt, or calendar view.
Airtable will also allow you to build up automations in order to save your team time.
In terms of pricing, Airtable is free for up to 5 people before you must upgrade to a subscription plan at $10/month/user to continue or access all capabilities.
Wrike
Wrike is a project management solution in collaborative platform mode.
Indeed, this task and project management solution allows you to create a real digital workspace with your team and is ideal for remote work.
This software allows you to assign tasks to your collaborators, to see the progress of a project at a glance, to better manage deadlines and the distribution of project tasks.
Wrike also has dozens of integrations to synchronize your favorite tools.
In terms of price, Wrike is available in a totally free version for up to 5 users for the task management part, otherwise you will have to opt for a paid plan starting at $9.8/month/user.
Microsoft Teams
Microsoft Teams is a tool for collaborative online video conferencing.
Teams is becoming one of the most popular options for remote video conferencing with your team.
The video is smooth, and the UI is well-designed.
If you just need to make remote calls with your colleagues for less than 60 minutes, the free version may suffice. Otherwise, you could consider a premium subscription (starting at 3$/month).
Why should you use an online collaboration tool?
Increased Productivity
One of the primary benefits of using this type of technology is increased productivity.
Your team is more aligned, and duties are more evenly dispersed. Everyone in the team is aware of what everyone other is doing and achieving.
Furthermore, certain software and online collaboration platforms allow you to measure time, so you'll know how long it takes to finish a task.
Remote teams will undoubtedly benefit from increased productivity.
Improved internal communication
As previously said, when you use an online collaboration software, greater internal communication is unavoidable.
Indeed, everyone notices the job allocation, and personal chores have a greater impact on the workflow.
The summary dashboard will also provide managers with a clear perspective.
Time saving
Another advantage of using a collaborative platform is the time-saving.
Indeed, how many minutes your team will spend to understand the tasks of your colleagues, to communicate via meetings or to understand the meaning of their mission.
With a collaborative platform, all your collaborators will have a clear overview and your team will save precious time.
Better corporate management
Improved communication = improved management?
Not always, but in our situation, it does.
Indeed, the company's managers and directors may observe the progress of ongoing initiatives, as well as the personnel who underperform and those who outperform, in the blink of an eye.
As a result, it is an amazing technique to effectively allocate resources in your organization and manage it overall.
Online collaboration softwares have a lot to offer.
It is up to you to make the correct selection and select the finest option for your firm.
You'll also like: 10 Best Free Note-taking software for 2022
How do you choose the best online collaboration software?
Determine your requirements
The first step in selecting the best collaboration platform is to carefully identify your requirements ahead of time.
There are hundreds of collaboration platforms available, and not all of them serve the same goal or have the same characteristics.
That is why, before you begin, create a note on your computer and make a list of the important features you will require.
For example, do you want video conferencing, Kanban project management, or something else?
You'll also like: The 8 Best Free Task Management Software in 2022
Set a budget
The second stage is to create a precise budget for your organization once your demands have been adequately outlined.
As previously said, there are several collaborative solutions on the market, and not all of them are created equal.
It can range from cheap to expensive.
So, before you take any action, make sure you understand the budgets and pricing of available options.
Try out the online collaboration tools
At this point, you should have eliminated the majority of the answers and be down to only a few.
The final phase is to put the various collaboratives to the test.
Indeed, most systems include a trial version or even an unlimited free plan.
As a result, we recommend that you form your own view before making your final decision.
You'll also like: