If you are looking for the best customer service software on the market, you have come to the right place.
Whether you have a SaaS software or an e-commerce, today, providing quality customer service is very important.
Many solutions to help you manage efficiently your customers' support requests have been created in the last few years.
Indeed, today there is a software for almost every need, including the one to assist and optimize your customer service.
In this article, we will see together what is a customer service software and what are the best support solutions on the market.
What is customer service software?
A customer service software is a tool for managing, simplifying, and optimizing client requests for before or post-sales assistance.
Using customer service software for a business is crucial nowadays since it helps you to reap several benefits such as optimizing your workers' working hours, better satisfying your clients, being more responsive to customer demands, and many more.
However, there are hundreds of options on the market, making it difficult to navigate.
Don't worry, we've found the best customer service software for you.
9 best customer service software
Freshdesk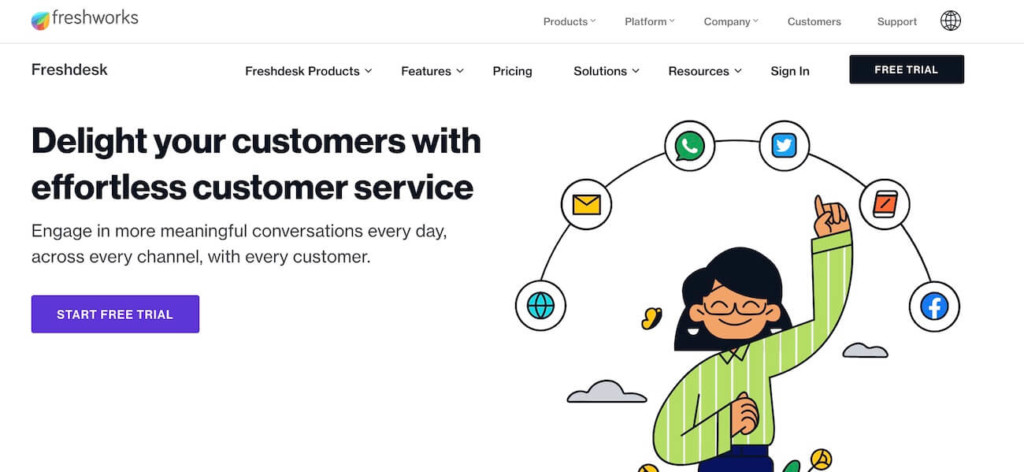 Freshdesk is one of the best customer service software on the market.
Indeed, Freshdesk is part of the Freshworks software suite.
This support tool is very complete and allows to answer almost all the problems related to customer service.
Indeed, among the main functionalities we find :
A collaborative tool
Ticket management with AI
Monitoring of your customer service performance
Advanced analytics
Automation to save time
Intelligent ticket categorization
As you can see, there are many features that will allow you to scale your customer service with peace of mind.
In terms of price, Freshdesk is free up to 10 agents, which allows you to test the platform perfectly.
Zendesk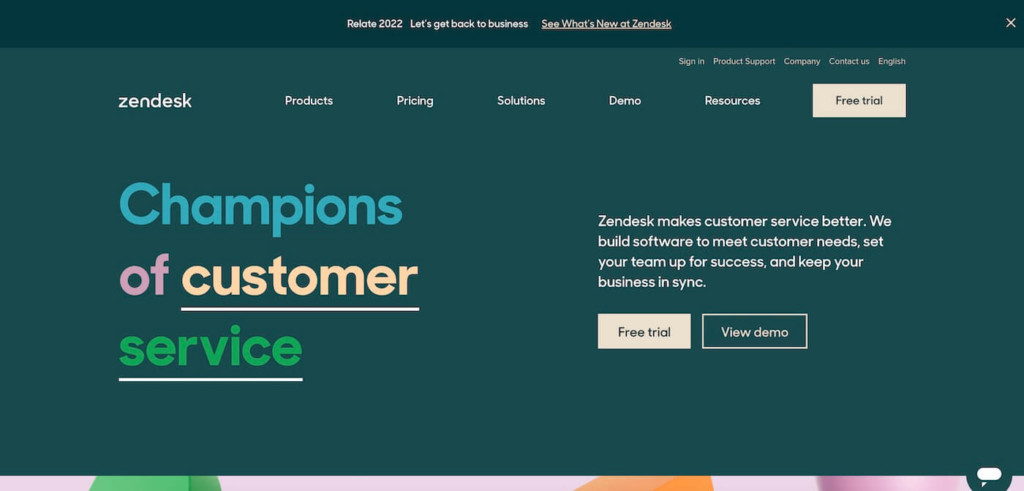 Zendesk is also one of the best-known solutions on the market to manage your customer service and support.
Indeed, Zendesk is one of the American pioneers of customer service.
Today, Zendesk is used by thousands of companies around the world.
Among the essential features of Zendesk, you can find:
A fully collaborative platform
A live chat feature
Intelligent ticket management
Analysis of your team's performance
Intelligent categorization and distribution of tickets

As you can see, Zendesk goes even further than Freshdesk by offering a live chat for example.
In terms of price, Zendesk is much more expensive than Freshdesk with a price of 49$/agent and month for the basic plan.
Crisp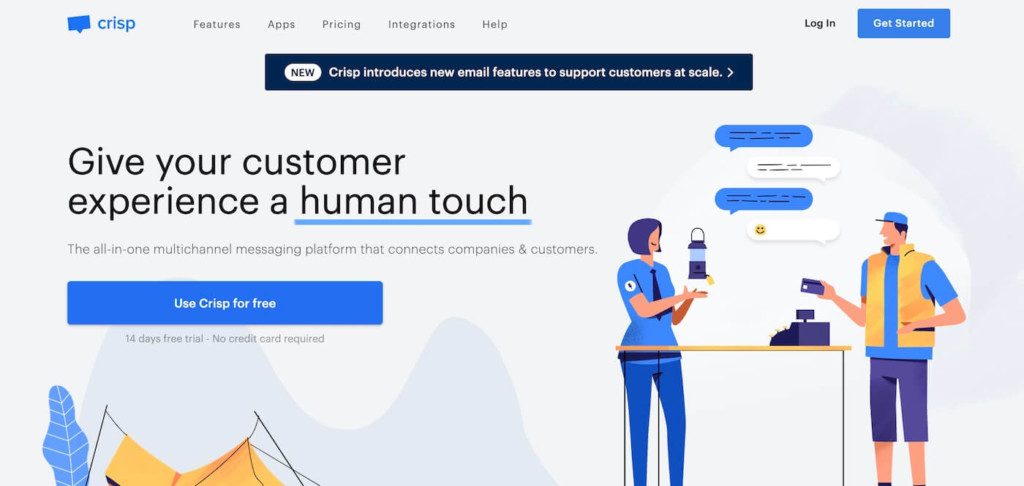 Crisp is a new very efficient customer service software.
This solution is very complete and competes largely with its American rivals in terms of features, UX and even price!
Among the main features of Crisp we find :
Live chat (main feature)
Ticket management
Integrated CRM
Automatic chat bots
Status pages
Knowledge base
As you can see, Crisp has a lot of features to answer the main issues of online support.
On top of that, Crisp is expanding vertically by offering other features like status pages or knowledge bases. Crisp is getting closer and closer to its American competitor Intercom.
In terms of price, Crisp is totally free up to 2 agents, then you will have to pay 25€/month/agent for the basic plan.
monday.com
monday.com is not to be introduced anymore. Indeed, monday.com is certainly the most famous all-purpose software on the market.
monday.com functions as a Work OS that is very flexible to nearly all of your use cases.
Among the most famous use cases :
Integrated CRM
Ticket management
Fully collaborative platform
Management of your teams' work time
Simplified goal control
monday.com does not have a live chat software like Crisp or Zendesk but it allows you to easily manage your customer tickets and prioritize them for example.
So it is not a customer service software only, but it is very powerful and can surely cover other of your use cases.
In terms of price, monday.com is totally free up to 2 users, then the first paid plan is available for 8€/month/user.
Hubspot
Hubpost also needs no introduction (but we'll do it anyway).
Hubspot offers a suite of SaaS software to manage many aspects of your business life, from sales to marketing to customer service.
Hubspot works as a hub.
That is to say that you can very well opt for the Hub service which is equivalent to the customer service of Hubspot.
You will have many interesting features like :
Live chat
Ticketing management
Chat bot
Shared inbox
Hubspot's hub service is ideal if your team is small.
But it can become very expensive if you have a lot of agents.
Prices start at 41$/month for 2 users.
Helpdesk
Helpdesk is just an online customer service and support software.
It was created specifically for this purpose, and it performs admirably.
Helpdesk, like Liveagent, is part of a software package.
Helpdesk just handles ticketing, but it does it quite effectively.
You will discover a completely straightforward and collaborative platform, simple ticket administration, and much more.
Helpdesk starts at $4/month/agent (annual plan) or $5/month (monthly plan).
Liveagent
Liveagent is a powerful customer service software.
Helpdesk and Liveagent are both part of the same business.
Liveagent offers two primary features:
A strong and sophisticated live chat application
A straightforward ticket management system
Of course, Liveagent includes other capabilities such as a customer portal to track the status of tickets and a knowledge base to restrict consumer queries.
Liveagent is an extremely powerful solution that properly fits the fundamental requirements of customer care.
Liveagent has an unlimited free plan, however if you want to use all of the services, expect to pay around 25€ per month per agent.
Zoho Desk
Zoho Desk is an advanced customer service software that addresses most of the major ticketing and support needs.
Among the main features, we find :
Ticket management
Omnichannel communication management
Workflow automation
Intelligent ticket sorting
Zoho is also highly integrated with other platforms which makes it an essential asset.
In terms of pricing, Zoho Desk offers a free plan for up to 3 agents and then the first paid plan starts at 14€/month/agent.
You'll also like: 7 Best Free Gantt Software for 2022
Gorgias
Gorgias is a great customer service platform made for e-commerce websites.
Well known on the US market, Gorgias is rapidly expanding to other markets too.
Gorgias has been created to simplify customer service through many different features like:
Live chat
Centralization of communications
Voice support
SMS support
Intent and sentiment detection
Basically Gorgias is a very smart platform that helps e-commerce stores scale their customer service with ease.
Gorgias's pricing doesn't work like other customer service tools and doesn't bill by seat. Indeed there's a fixed pricing depending on your plan, with unlimited users!
The first plan starts at $50/month.
You'll also like: 10 Best Free Note-taking software for 2022
How to choose a customer service software?
We have just listed the best customer service software on the market, now it's time to understand how to choose a solution for your need.
Not all ticketing and customer service solutions are equal.
Indeed, certain systems, such as Helpdesk and Monday.com, do not provide live chat.
As a result, you should make a list of the things that are vital to you.
After that, set a maximum budget per agent that you will not exceed. Because pricing is usually a big factor in making a selection. 
There is a significant pricing difference between systems; for example, Zendesk costs 49€/month/agent, whereas Monday.com costs 8€/month/agent.
It is therefore important to know where you stand and what your limits are.
Another element to consider is the integrations available on the customer service solution.
Do you want the support software to integrate with your internal messaging or your CRM?
You'll need to have the answers to these questions up front.
Return to our listing and compare the options based on your criteria after your answers are obvious.
Good luck with your search, and if you have any questions, please leave them in the comments.
You'll also like: