Discover the top SCRUM tools for project management in this post.
Whether you work in a product team, a development team, or as a freelancer, the SCRUM agile technique helps your entire team to be more productive.
Indeed, the SCRUM project management methodology has become indispensable in businesses all around the world.
However, without the proper tools, implementing such a process for your startup might be difficult.
Furthermore, with the advancement of teleworking, distant cooperation has become essential.
In this detailed article, you will learn about the best SCRUM tools on the market and how to select your future project management software.
What Is a SCRUM Tool?
A SCRUM tool is software that makes it simple to use the SCRUM project management process.
With an SCRUM tool, you can quickly manage your projects and sprints in teams by using various tables, reminders, automations, graphs, Kanban, and even Gantt charts.
The SCRUM technique is a way of agile project development in teams that includes the ability to pivot on the project at any stage of development and change the direction.
The SCRUM agile method is therefore dynamic and very flexible.
Scrum means scrum, which in rugby, allows you to continue the match on a different basis, so you quickly understand the link with an agile work methodology.
Now, let's discover the best SCRUM tools on the market.
Top 7 Best Free SCRUM Tools
Trello

Trello is a team project management software that allows you to use the SCRUM agile methodology.
Trello is an older version of the scrum project management software, however it has been updated with all new features that are entirely unique.
Trello formerly allowed you to create kanban boards and hence manage your projects and tasks using cards.
There are now new views available, like as Gantt charts and calendars.
This is an excellent tool for teams who do not require a complicated tool.
Furthermore, the cost is very reasonable; Trello is free up to 10 boards, after which you must pay $5 per month per user.
monday.com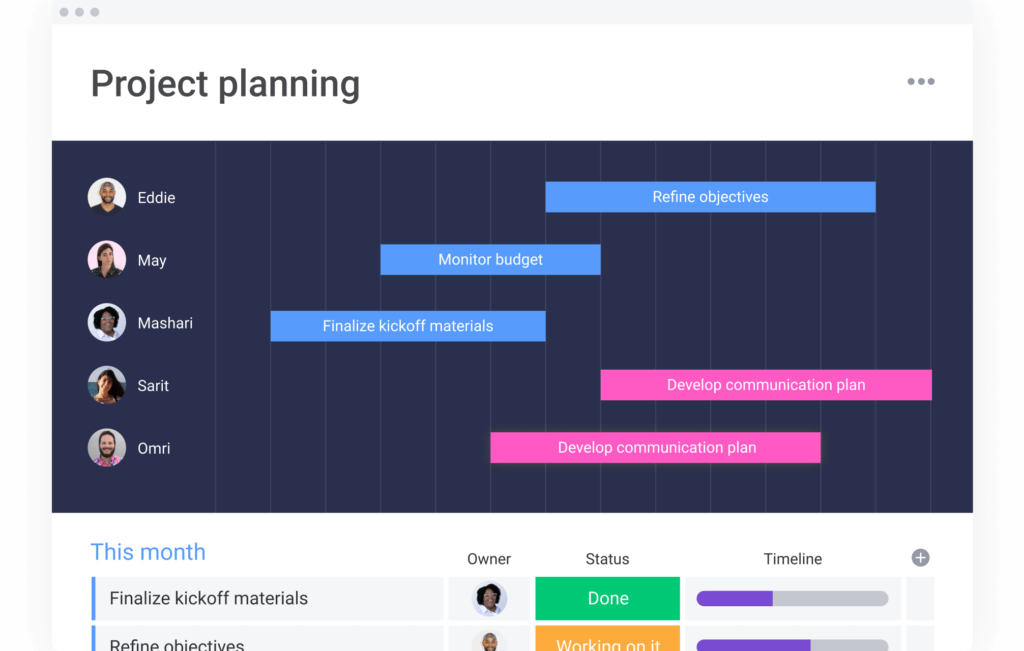 monday.com is one of the best free SCRUM softwares that helps you to perfect the agile work process.
monday.com is an excellent solution for remote product teams.
Among the qualities you will value the most are:
Kanban boards
Gantt chart
View of the entire project
Platform that is entirely collaborative
Simple calendar administration
Reminders about deadlines and work assignments
As you can see, the program has all of the tools required to use the scrum technique remotely.
What we like best about Monday.com is that the plan is free for up to two users, after which you must pay 9€ a month per user to continue (which is not expensive)
Clickup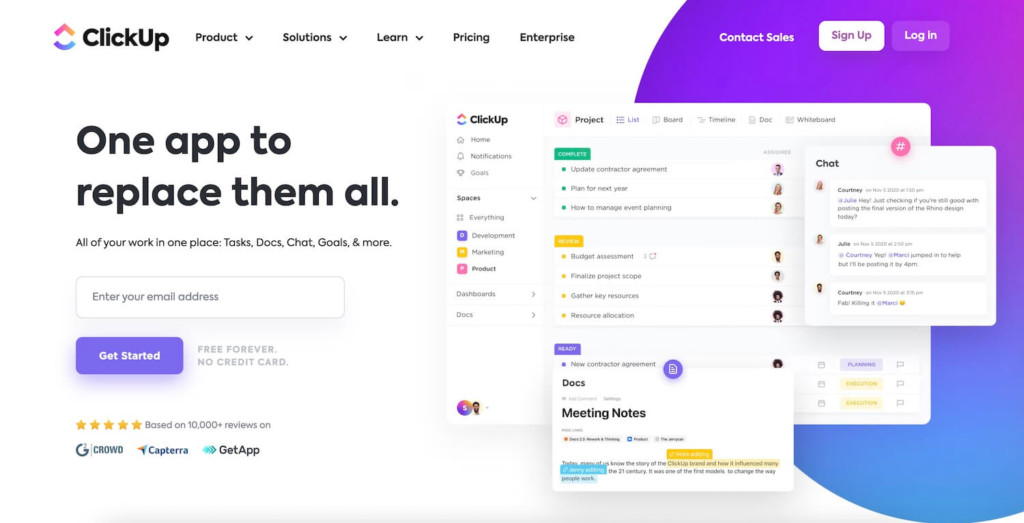 Monday.com's direct competition is plainly Clickup.
Clickup is a High-quality SCRUM software that allows us to handle your tasks and projects flawlessly and remotely.
Clickup is more than just a scrum tool; it is a true Workplace with whiteboards, live chat, document management, and many more features that can be handled straight from the app.
Clickup also provides an iOS and Android app that you can use to check your to-do list or see who is calling you from your smartphone.
What do you believe the cost of this scrum software will be?
Clickup is free with limited capabilities, and the initial subscription plan is incredibly affordable, starting at $5/month/user.
Quickscrum
Quickscrum is also one of the best free SCRUM tool on the market, as the name implies.
In reality, what lies behind their SCRUM-oriented label is a full complete agile project management solution.
Quickscrum has numerous features, including:
Sprint and iteration management from a Kanban perspective
Sprint retrospection provides an overview of a project's progress.
Stand-up every day
Quickscrum, as we can see, is a more SCRUM-oriented solution than its competitors, with unique features for scrum masters!
However, the user interface is far less appealing than that of Clickup or Monday.com.
The cost is straightforward: $5 per month per user.
Asana
Asana is an agile task management platform and SCRUM tool that goes above and beyond.
In reality, among the most well-known functionalities of Asana are:

Control marketing campaigns
Oversee creative productions (visuals or others)
Control remote work
As you can see, Asana is a useful tool for remote businesses (and not only).
Almost all departments will have an account in this platform, whether it is to handle SCRUM sprints or to get a project overview.
The cost is not aggressive, beginning at 0€ and rising to 10,99€/month/user.
Read also: Top 8 Best Free Inventory Management Software
Proofhub
Proofhub is a sprint scrum management software for teams that does a lot more.
Proofhub is, without a doubt, one of the best project management software available.
Proofhub provides a solution for a wide range of use cases and for a variety of teams (marketing, dev, product, HR).
Proofhub's top SCRUM features include the following:
The table layout
The Kanban perspective
Task assignment on the calendar
Proofhub allows you to establish subtasks, processes to trigger automations, measure time, and much more.
A software that we believe is overly comprehensive and is best suited for huge international teams.
Please keep in mind that the tool is only available in English.
Pricing for PH starts at $45 per month for unlimited users.
Miro
Miro is a SCRUM sprint management tool that is distinct from the others described here.
Miro, in fact, goes remote collaboration even farther by providing a highly powerful interactive whiteboard.
Miro calls itself a visual collaboration platform.
Miro blends video with the collaborative features of a standard project management application.
You may therefore meet on Miro to undertake super interactive brainstorming sessions, or assess the development of a project using a Gantt chart while also being in video on Miro.
Miro combines the best of both worlds: video production and project management.
Miro is free for the first three charts, after which you must pay $8 to $16 a month per user, depending on the plan you choose.
Read also: 9 Best Free Planning Software
How to Pick Your Next Scrum Tool?
Learn how to properly pick your future scrum software now that you know the finest scrum tools on the market.
The method for selecting your scrum tool is the same as for any other tool.
You just need to outline your demands ahead of time so that you know exactly what you want.
Begin by responding to the following questions:
How many people will have access to the platform?
What are the key characteristics?
Which language should the platform be available in?
What degree of assistance do you require?
What is your maximum spending limit?
After you've answered these questions, return to the list of SCRUM tools you made earlier and build a list of the three best options.
Then, in order to get an accurate view, we urge you to test each of the three options one by one.
Nothing beats testing before making a choice, and most SCRUM sprint management software offers a free trial or even a free edition, so why not take advantage?
You'll also like: