In this post, you'll discover the best free inventory management softwares on the market.
Do you run an e-commerce site or a brick-and-mortar store?
Using an inventory management solution is critical for several reasons, including the healthy development of your business and the ability to see your goods in particular at all times.
However, there are several inventory management options available.
The selection of software might soon become complicated.
Aside from being a challenging decision, selecting the improper inventory management platform might have a detrimental business impact.
In this post, we will walk you through the finest inventory management software available on the market and what to consider while making your decision.
What is an inventory management software?
A company may use an inventory management software to conveniently manage product inventories, stockpiles, replenishments, delivery timeframes, and many other critical logistical factors.
This sort of inventory management solution is mostly utilized by physical and e-commerce companies to facilitate company and inventory administration.
Discover the finest free inventory management software right now.
Top 8 best free inventory management software
monday.com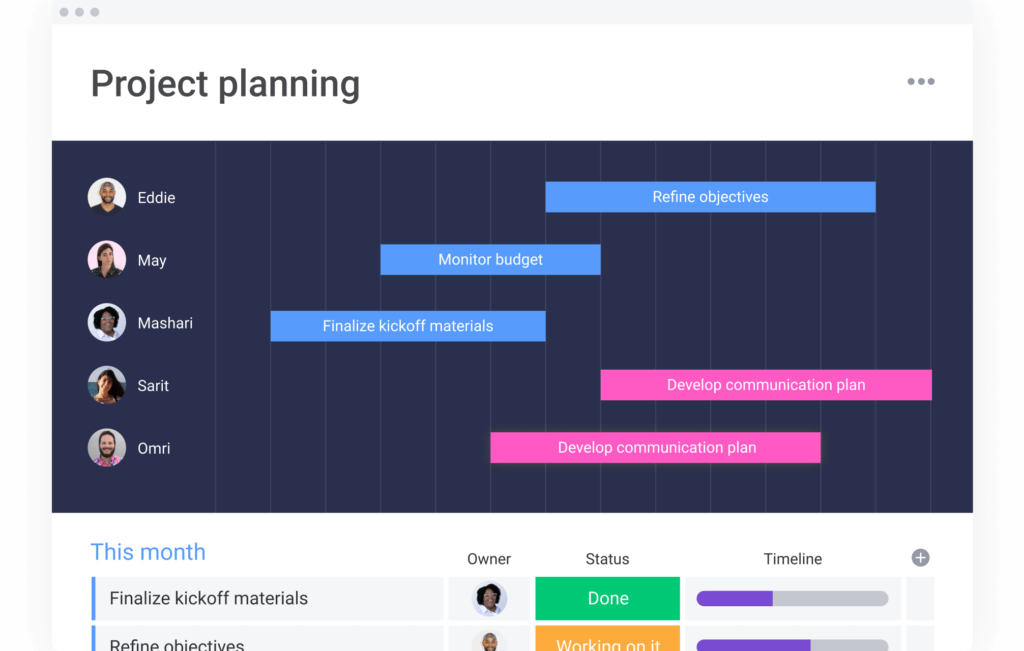 monday.com provides one of the best free inventory management softwares.
Indeed, monday.com features a highly flexible Work OS that allows for any conceivable use case.
Because the interface has been developed to appeal to the maximum number of users, the stock management software is free and simple to use.
You'll also like the collaboration aspect. Indeed, you may invite your whole team and track the status of your stock and inventory for each product in real-time.
Monday.com offers a free subscription for up to two users.
Dolibarr
Dolibarr is a free (open source) inventory and stock management solution that can help you run your business more efficiently.
Dolibarr is categorised as ERP software or company management software.
Dolibarr is a software that must be downloaded into your computer, as opposed to Monday.com, which can be used in browser SaaS mode.
Dolibarr maintains various elements of your business, including quotations and invoicing, CRM, and many more, in addition to inventory management.
Exact
Exact is a free inventory management software.
Exact, like Dolibarr and Monday.com, is an ERP program that allows you to manage all elements of your organization.
Exact allows you to simply manage your inventory, inventory levels, and replenishment. Accounting will also be easier to handle with this complete tool.
The drawback of this technique is its untransparent pricing.
Sortly
Sortly is a comprehensive and extremely sophisticated inventory management application.
Sortly, unlike the other software on this list, is primarily focused on inventory management, making it a far more complex option.
Among the primary functionalities are:
Inventory control
Resupply has been simplified.
Tracking products with barcodes and QR codes
Reporting that is complete and accurate
Sortly can be easily linked with all of your existing systems, making it an appealing choice.
Sortly offers a free plan for up to 100 goods, allowing you to try the inventory management software with confidence.
Inventoria
Inventoria is a subscription-based inventory management system.
Inventoria enables your corporation to effortlessly manage your company's inventory without any problems.
However, when compared to alternative options such as Monday.com, Sortly, or Zoho, this software may appear antiquated.
To download it on your PC, you will need to spend more than a hundred bucks.
Zoho inventory
Zoho Inventory is a platform for managing inventory for growing enterprises.
Zoho is well-known for its comprehensive portfolio of innovative SaaS tools.
Zoho Inventory is Zoho's inventory management division.
Among the features are:
Complete product tracking
Inventory management in real time
Reports make it simple to track your sales
Accounting and warehouse management

In a nutshell, the solution is comprehensive and user-friendly.
In terms of pricing, Zoho provides a free plan with a limit of 25 orders per month to begin testing the service.
The initial premium plan is 49€ per month.
Openconcerto
Openconcerto is a powerful free inventory management software.
You can, however, pay for installation assistance, which is optional.
To manage your stocks, Openconcerto will provide you with the following features as major tools:
Quote/invoice management
CRM IntegrationStock level management
Many others include a cash register system.
The tool is thus full, but it is not available in SaaS mode, which might be inconvenient if you operate in a team.
NetSuite
Net Suite is a suite of free inventory management software with powerful features for professionnals.
Indeed, Netsuite is entirely part of Oracle ecosystem.
Among the top features:
Multi locations management
Automate inventory tracking
real time inventory view
improve tracability
The main disadvantage of Netsuite is its pricing which is not very transparent.
You'll also like: 10 Best Free Note-taking software for 2022
Why should you use inventory management software?
Inventory management software is critical for your company's health and good administration.
Among the primary benefits are the following:
Clear steering of your business
The transparent management of your organization is critical to the growth of your firm.
Using an inventory management solution, you will always know the number of orders, the status of your goods, forecast probable shortages to avoid a decline in turnover, and so on.
Easier supply management
Managing supplies, delivery schedules, delays, and even supplier payment delays is one of the most typical problems when running a company.
You won't have to worry about this with an inventory management solution since it can warn you to low inventory levels, auto-order new items, reorder unpaid products, and more.
Reduce customer annoyance
What could be more aggravating than wanting to purchase a thing online but not seeing it in stock, or worse, ordering it and then receiving a notification stating it is out of stock?
You will dramatically minimize consumer friction and increase transparency between you and your customers by using inventory management software.
Increase your turnover
Better management, greater openness, and greater accessibility will certainly result in increased turnover for your organization.
The favorable synergies of this sort of software should not be overlooked.
You'll also like: 9 Best Free Planning Software for 2022
Will free inventory software be enough for me?
It is impossible to determine whether a free inventory management software will be enough it all depends on the size of your business, the number of clients, and the quantity of items; nevertheless, in most circumstances, you will need to invest in a premium inventory management solution.
True, most of them provide products with a free trial version, but for extensive use, you will need to choose a subscription plan.
You'll also like: