If you are looking for the best free kanban software, you are at the right place.
If you are a freelancer, employee, or have personal projects, you are probably working with to-do list software.
And it's normal!
A real tool to gain productivity, a task management software is the ideal software to manage a project and its realization at best.
One of the best-known features of management software is of course the kanban view.
The real revolution was introduced in software by Trello a few years ago; many kanban software have been created since.
Together, we are going to see the different kanban software and tools, to help you carry out your project.
What is Kanban Software?
A kanban software, or kanban tool, allows you to manage your tasks according to the kanban method.
The kanban method was invented in Japan (kanban means label for the anecdote) and the principle is simple: imagine a table with different columns for example "To do", "In the process of doing" and "Done" filled with tasks in the form of labels.
Simply move the labels in the different columns according to their status.
It's as simple as that, but devilishly effective for gaining productivity and seeing clearly the list of things to do to complete a project.
Now let's see the best free kanban software.
How to choose your free kanban tool?
Now that you know the best free kanban software on the market, we will help you choose the best solution for you.
To do this, you will have to answer some basic questions:
Is the use I will have of it personal or professional?
How many people will have access to the Kanban software?
Do I need a kanban platform in French?
Which integrations are important for my needs?
What is my budget?
Once you have answered all these questions, you will have better defined your needs.
Review the list of the best kanban tools by analyzing the pricing pages and the features in detail of each tool and make a shortlist of 3 platforms.
To decide between the three platforms, we strongly advise you to test them all before committing yourself.
Indeed, most of the kanban tools have a totally free plan which is perfect to test them!
7 best free kanban software
Trello
Trello is a powerful kanban software and the oldest solution on this list.
Indeed, Trello democratized kanban software in the 2010s to offer a simple and efficient task management solution.
Since then, Trello has diversified and adapted its platform to the growing demand for other features such as :
Many integrations
The calendar view
Gantt view
Collaborative team task management
The free version of Trello is perfect for managing your personal and even pro projects!
The first paid plan starts at $5/user/month.
monday.com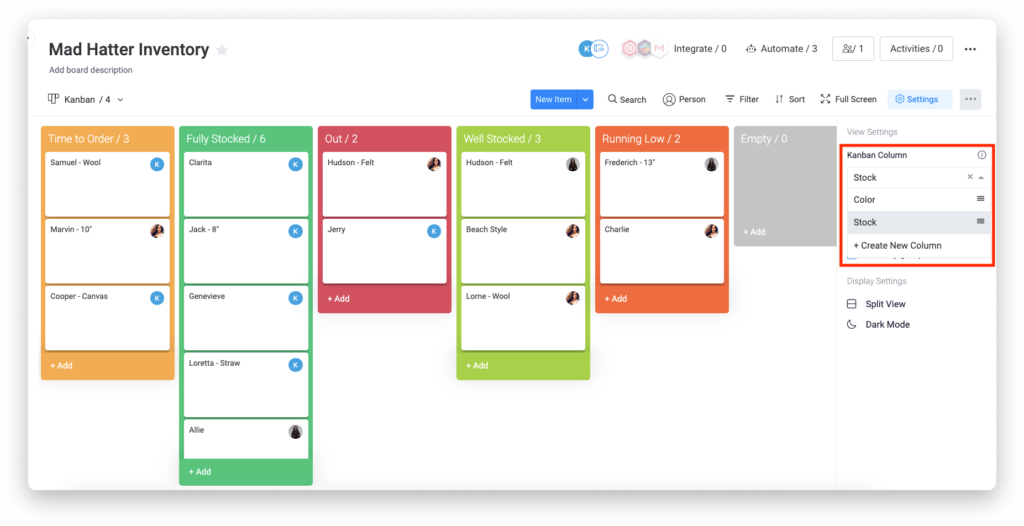 monday.com is a project management software with a strong kanban functionality.
Indeed, beyond the simple management of tasks in Kanban mode, monday.com is a very powerful tool working in different modules:
Project management
CRM
Marketing
And many others
If you have a task management problem, monday.com will inevitably make you more productive and even more so if you work in a remote team.
Monday.com is ideal for telecommuting teams as well with many collaborative features.
Monday.com offers a free plan that is always ideal for your personal projects or teams of up to 2 people. Beyond 2 people, you will have to pay 10€/user/month.
Wrike
Wrike is a project management software designed for agile teams.
If you are looking for a solution for personal use, don't bother.
Indeed, Wrike has been developed to help remote teams boost their productivity.
As a result, Wrike is bound to have an intuitive kanban functionality.
Wrike has many other "templates" with a gantt view, document management and much more.
The trial is free and then count about 10$/month/user.
Asana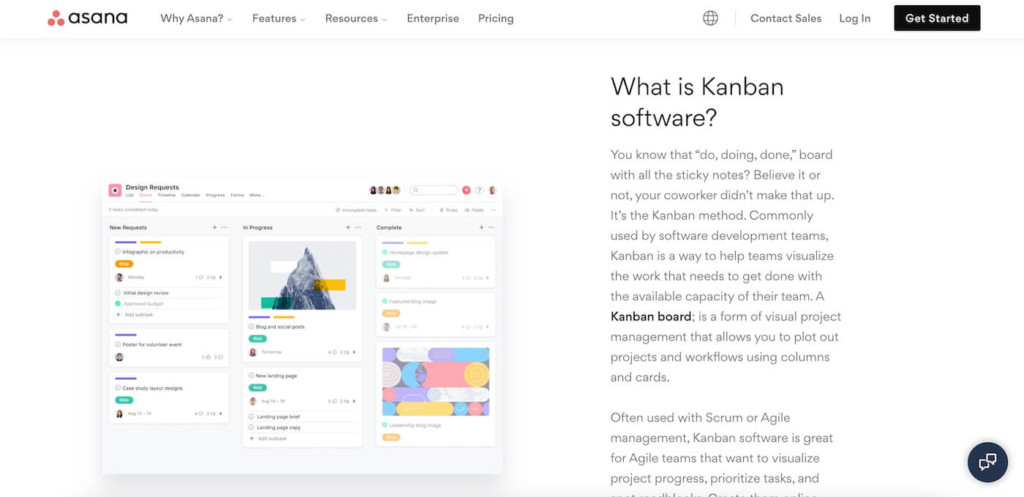 Asana, the famous project management software, offers a very advanced feature to create kanban boards for personal or professional use.
Indeed, on your different cards that you can move by drag and drop, you can add a large number of elements such as :
Add tags
Assign the card to a team member
Add a deadline
Add comments
Put checklists
And much more
So there are a lot of useful elements to boost your productivity on Kanban boards.
In terms of price, Asana is available for free and the first plan is 10,99€/month/user.
Clickup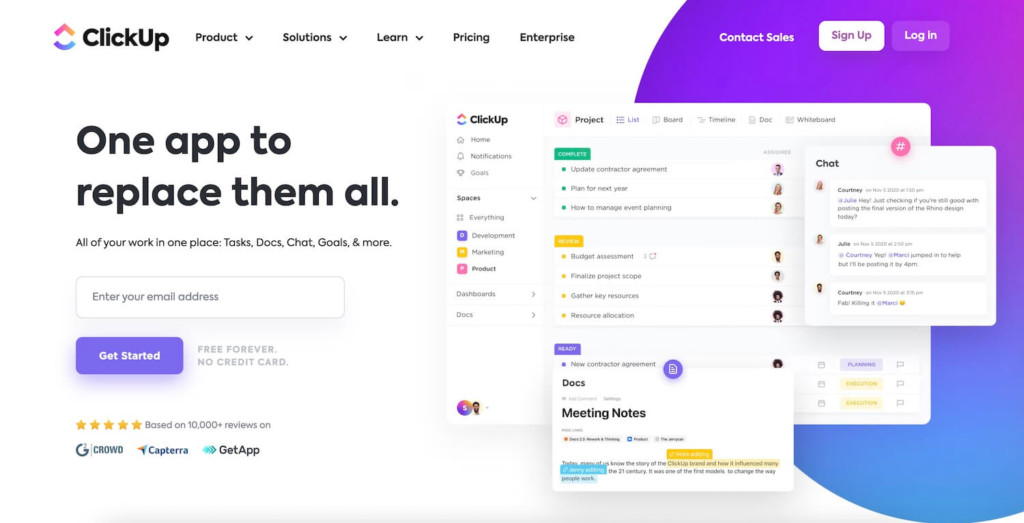 Clickup is a free and paid kanban tool that allows you to manage your tasks.
This American software can be seen as a "digital workplace", that is to say, a software to do everything.
Among the main features of Clickup we find :
The kanban table
Document management
The gantt view
Overview of the progress of projects
Employee and time management
A digital whiteboard
In short, an all-purpose platform with a beautiful interface.
Clickup offers a free plan for personal use forever and professional plans start at $5/month/user.
Notion
Notion is a no-code all-in-one software that allows you to manage your resources the way you want.
Let's explain in more detail the possibilities with Notion.
To put it simply, Notion is a hybrid software between a text editor, a spreadsheet, a kanban table, a resource manager (drive) and many others.
Among other things, it allows you to create :
a knowledge base
web sites
Kanban tables
spreadsheets with functions (like Excel)
A drive to store your files
All this in a collaborative way of course.
Notion has been very successful for a few years now and is an interesting solution if you are looking for an all-purpose software.
Notion is available for free up to 50 documents and then the paid plan is 8€/month/user.
You'll also like: 7 Best Free Gantt Software
Kanbanize
Kanbanize as its name indicates is a kanban board tool.
The platform unlike others (except Trello) was essentially developed around this functionality, then gradually other bricks were added.
Kanbanize is available in French which is not the case for all the solutions on this list.
This kanban board solution is once again mainly reserved for professionals. And even for teams of more than 15 people.
At the UI level, Kanbanize does not compete with monday.com or Clickup but if you are looking for simplicity and only kanban boards, Kanbanize can be the solution.
Kanbanize does not offer a free plan and the first paid plan starts at $149/month for 15 users.
Miro
Miro is an online visual collaboration platform with kanban tool functionality.
Miro is slightly different from the other kanban software presented in this tool comparison since Miro even integrates a video conferencing and collaborative whiteboard solution.
This software is therefore much more popular if you work in a team and remotely.
Miro was very successful during the COVID-19 crisis with the development of teleworking.
Miro claims to have 35 million users worldwide which is huge.
The platform is free up to 3 tables (unlimited number of members) then you have to pay 8$/user/month.
You'll also like: