This post will introduce you to the top roadmap tools on the market.
Creating a plan is typically critical to the effective completion of a project, whether you work in a product, marketing, or development team.
The larger your team, the more difficult it may be to manage it and all of its associated tasks.
As a result, several roadmap and project management software and tools have been created.
There are dozens, if not hundreds, of tools available to help you create successful roadmaps.
In this post, we'll look at the finest roadmap tools and how to pick your next roadmap software.
What is a roadmap tool?
A roadmap tool, or roadmap creation software, makes it easy to create roadmaps around a common project.
A roadmap tool must integrate different aspects such as team task management, project scheduling, time allocation, deadlines and many other elements.
In the age of teleworking, it seems inconceivable not to use roadmap software in the cloud.
There are many solutions available to meet this need, including project management software.
Top 10 best roadmap tools
Clickup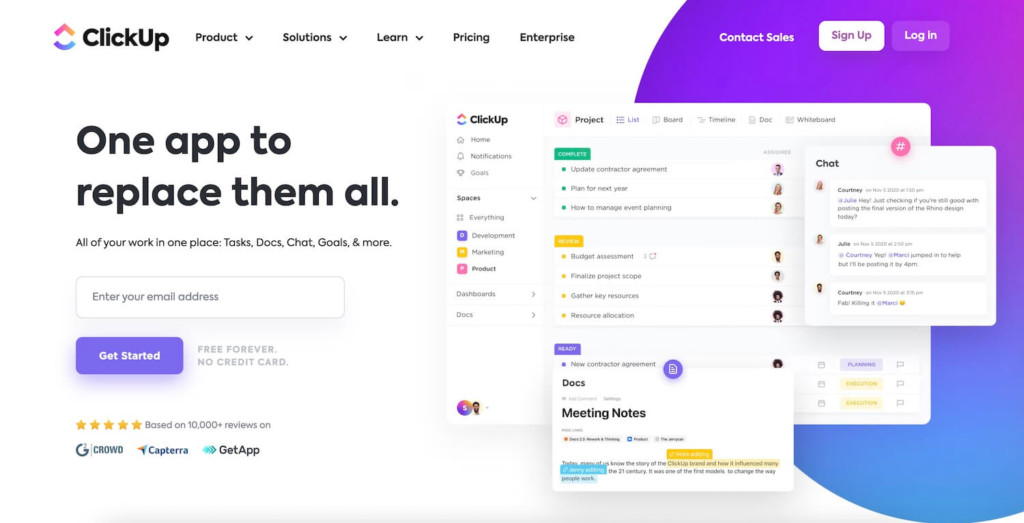 Clickup is software for designing roadmaps, among other things.
Clickup, like Monday.com, is a full project management tool.
Among the primary aspects of Clickup are:
Making a road map (obviously)
Task management in a group
Whiteboard
Goal-setting management
Livechat
In summary, Clickup is the ideal combination of a gorgeous user interface and productivity-enhancing tools.
Clickup also offers a free lifetime plan (perfect for personal use) and the first premium plan begins at 9€/month/user.
Asana
Asana is one of the best roadmap tools available.
It allows users to easily track their projects and see what needs to be done and when.
Asana is extremely powerful and offers many features to help teams work together effectively.
Asana is a great tool for development teams, marketing teams, support teams and sales teams.
Asana is available for free for teams of up to 15 people.
For larger teams, Asana offers a premium plan starting at $10 per month per user.
monday.com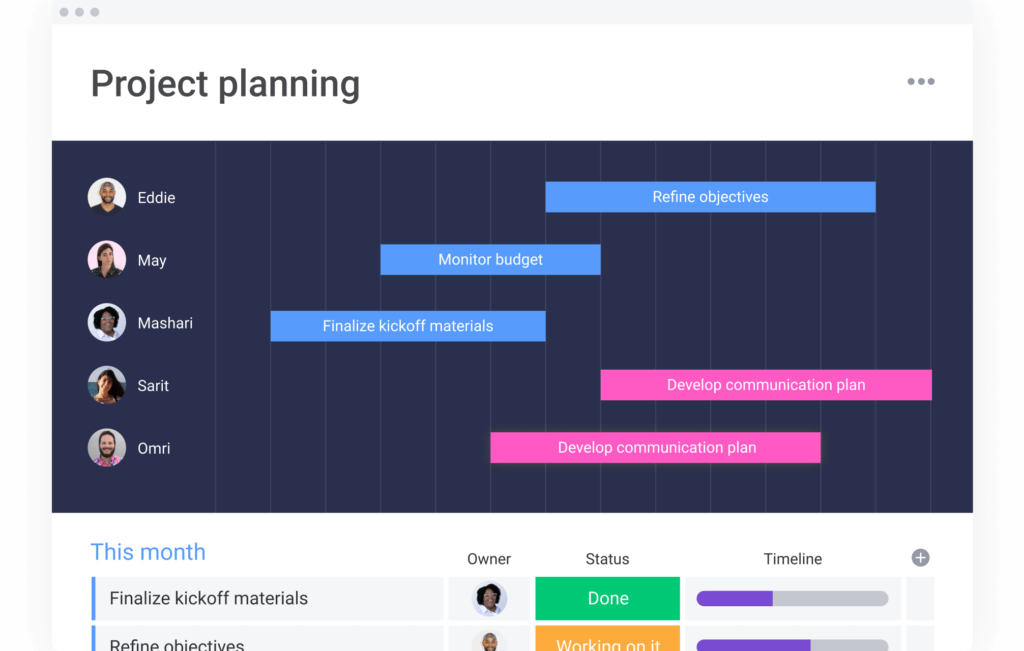 Monday.com is a cutting-edge roadmap tool.
Monday.com is a SaaS software with numerous project management features, including
Making of roadmaps
Deadline management and planning
Task distribution
An overview of a project's progress
Reminder system
The Monday Dev module is ideal for managing roadmaps and developing your product/project under optimal conditions.
Monday.com is a valuable asset to your company, providing a significant boost in productivity.
Furthermore, monday.com provides a free plan for up to two users, with the first paid plan starting at 9€/month/user.
Favro
Favro is a roadmap and project management software.
Favro can be seen as a SaaS collaborative planning software.
This means that Favro will help you to carry out all your project planning and thus roadmap tasks perfectly.
Among the most interesting features are
Roadmap management
Kanban tables
Database management
Knowledge base
Favro is an interesting roadmap tool for large teams.
If you are looking for a roadmap tool for a personal project however, we recommend you to use monday.com instead since Favro does not offer a free plan.
In fact, the first paid plan starts at $10/month/user.
Notion
Notion is a tool that will allow you to create roadmaps simply and collaboratively.
Notion is much more than that, but is a true no-code tool that allows you to go far in managing projects, creating websites, managing your resources (knowledge center) or even managing schedules and assigning tasks.
A real all-in-one behemoth, which can be a bit too complex for those who just need a basic roadmap.
The interface is a bit less friendly than Clickup or monday.com but this roadmap tool will allow you to collaborate well in a team.
Productboard
Productboard is not like the other solutions in this list in terms of roadmap software.
This tool's goal is to centralize user input on your product and create an internal/external collaborative roadmap.
Productboard is not project management software, but it does allow you to consolidate all of your consumer input and utilize a vote mechanism to determine which features are most desired.
If you operate a SaaS product, Productboard is great. The monthly fee begins at $20.
Airtable
Airtable is a collaborative roadmap tool that combines Microsoft Excel and Google Sheets.
Airtable, as the name implies, operates in the form of databases.
After you've centralized your data in Airtable, you may show it in a variety of forms using pre-made themes.
The strength of Airtable resides in its thriving integrations.
Indeed, Airtable is compatible with all of your favorite apps, including Zapier.
In terms of cost, Airtable is free, with subscription plans starting at $10/month/user.
Hygger
Hygger is software for product management and roadmap management.
This program contains several useful functions, like as
Management of Roadmaps
Kanban boards
SCRUM software
Product backlog administration
Hygger is the ideal combination of project management and product management. It brings together the finest of both worlds.
In terms of pricing, Hygger is free, with the first premium plan starting at 9€/month/user.
Trello
Trello is a task management software that needs no introduction.
Indeed, Trello is one of the first players who arrived on the project management market.
Trello has democratized the use of Kanban boards and today has been able to modernize itself by developing roadmaps and timeline views for example.
Trello can now compete with big players like Clickup or monday.com.
It is still our favourite for managing personal roadmaps.
Wrike
Wrike is an online roadmap tool that allows you to easily manage your projects and collaborate with your team.
The main features of Wrike are the following:
Task and project tracking
Document management
Calendar management
Instant messaging
Real-time notifications
Wrike is ideal for teams of all sizes looking to better collaborate and manage their projects efficiently.
Wrike is available from $12.50 per month per user.
How do you choose your roadmap software?
Choosing your roadmap software can be complex if you don't have the right method.
In order to simplify the task, we invite you to answer these questions:
How many people in my team will have access to the software?
What are the essential functionalities I need (kanban view, roadmap, task assignment, automatic reminders, etc.)
What is my maximum annual budget? (Not all solutions are equal and all prices exist)

Once you have answered these simple questions, we invite you to go back to our listing of the best roadmap tools and make your choice.
You'll also like: