In this post, you'll learn how to set a timer on IG camera.
Instagram is an app providing users with the opportunity to share pictures and videos that will vanish within 24 hours.
Known as Stories, Instagram Stories has a range of awesome functions. One of them being the Countdown Sticker.
You can utilize the countdown sticker to count down to any special occasion, such as a holiday, birthday or any other noteworthy milestone.
This sticker can be added to any post, giving users the ability to track their progress and excite their friends and family.
With the Countdown Sticker, Instagram provides individuals with a fun, creative way to keep track of their most awaited milestones.
What is a timer on Instagram?
The "Countdown" sticker in Instagram Stories is an incredibly useful tool.
It provides users with a dynamic timer that can be set to count down to any momentous event.
Whether it's an upcoming birthday, the launch of a new product, or an upcoming vacation, this sticker is the perfect way to stay on top of the important things in life.
It's important to note that this timer sticker cannot be used in regular Instagram posts.
The "Countdown" sticker is exclusive to Instagram Stories, and should not be confused with other types of countdown tools.
With this feature, users can easily keep track of noteworthy events, or share them with their followers.
The "Countdown" sticker is a great way to ensure that you don't miss out on any momentous occasions.
Whether it's your own or someone else's, this dynamic feature makes it easy to stay in the know.
If by timer you didn't mean a countdown sticker but an actual timer like you can find in your camera roll, follow along to the last section of the blog post.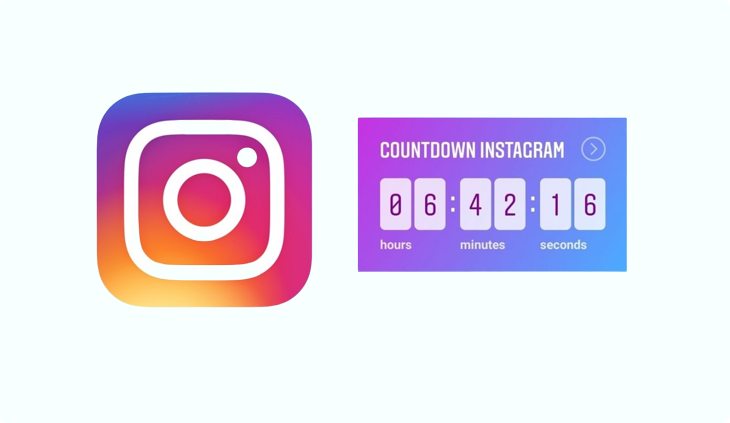 How to set a timer on Instagram camera?
There are actually several ways to set a countdown timer on IG, but we'll cover the most famous technique in this tutorial.
Follow these steps to set a timer on Instagram.
Launching the Instagram app on your smartphone is the first step to getting started.
Log into your account if necessary, and then access your story.
You can upload or take a photo or video by swiping right.
Once you have chosen your background, go to the top of the screen and tap the square smiley face icon.
This will bring up the option to select "Countdown".
After that, tap "Countdown name" and input the title of your countdown.
To enter the right date and time, click on the time part and enter the information.
If you prefer to only select the date, leave the "All day" option turned on.
You can also customize the color of your countdown by tapping the circular color palette on your story screen.
Once you are satisfied with the countdown, you can use two fingers to resize and edit it.
Finally, tap "Your story" to share your Instagram countdown story with the world.
And that's it! You just created your first-ever Instagram countdown timer.
How to set a photo timer on Instagram?
If what you're looking for is to activate a timer feature before taking a photo on Instagram, well simply you can't. At least with stories.
You can easily set a timer for Instagram reels, but not for Instagram stories.
However, since when posting a story you can access your camera roll, we encourage you to do the following to set a photo timer on Instagram:
Open your phone camera (not IG)
Set a timer directly there
Take your best photo
Open Instagram stories
Select your latest photo in the camera roll
That's it!
Basically, there is no such timer built-in feature directly in Instagram, but you can easily find a workaround by taking advantage of your phone camera directly.
You'll be free to then apply filters and effects if needed to your previously taken photo.
Read also:
Is it possible to set a timer before taking a photo on IG stories?
Well, the answer is simple, no it is not possible to set a timer on IG directly before taking a photo.
Instagram never built such a feature to set an actual timer before taking the photo.
However, you can easily find a workaround for that.
The solution is to take your photo from your phone's camera directly, then upload the photo to your stories.
That's it!
You'll also like to read: