If you are looking for a free business development software, you have come to the right place.
Developing your sales and customer acquisition processes is the key to increasing your turnover.
Nowadays, many sales prospecting management software programs have been created to help professionals develop their businesses.
There are now hundreds of prospecting tools, with varying degrees of effectiveness and functionality.
Let's take a look at the best prospecting software on the market and how to select your next tool.
What is business development software?
Business development software is a tool that allows companies to find and contact new customers.
This type of platform uses various methods and technologies to help you identify and contact prospects manually or automatically.
A prospecting tool can help you research and analyse prospect information, develop email lists and communicate with prospects. It can also help you organise and manage your campaigns and track their performance.
Finally, prospecting software will automate many repetitive tasks, such as contact enrichment, automatic follow-up, and more.
Top 8 best free business development software
Hubspot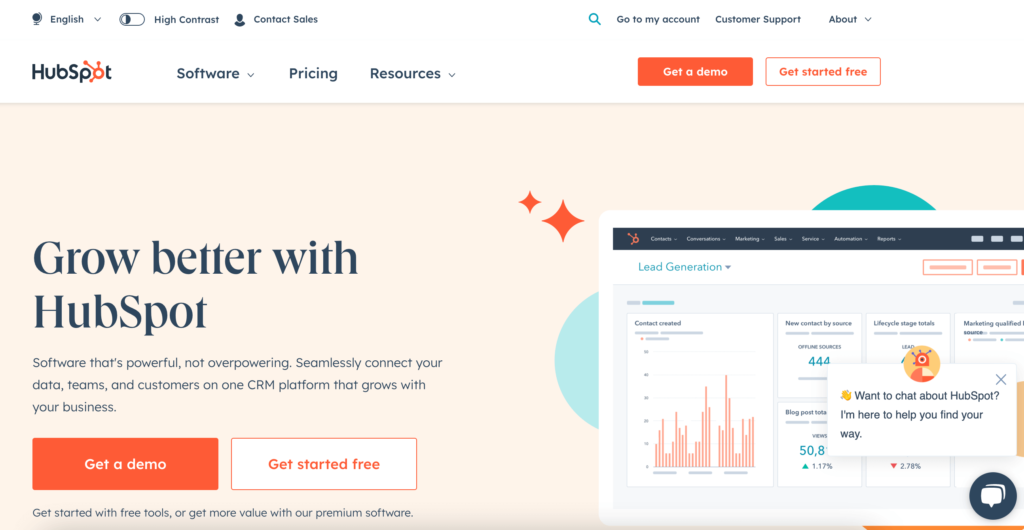 HubSpot is one of the best free business development software on the market.
This real behemoth of the CRM market is ultra-complete and will meet most of your prospecting needs.
With Hubspot, you will be able to centralize your contacts (unlimited and free), create email outreach campaigns, auto-enroll contacts in these sequences, create dedicated landing pages, create email templates for your sales reps, analyze the performance of each one, and much more.
Hubpost enables businesses to generate more qualified leads, grow revenue and infrequently outperform the competition.
Hubspot is designed to help businesses connect with prospects, turn prospects into customers, and maintain that relationship over time.
In other words, it offers a complete platform for salespeople and marketers.
The Hubspot suite includes a number of features that help them achieve better results, including marketing automation, reporting tools and lead analysis tools.
Hubspot is an all-in-one solution that can manage the entire customer, prospect, and lead lifecycle.
Hubspot's CRM module is available for free, so what are you waiting for?
monday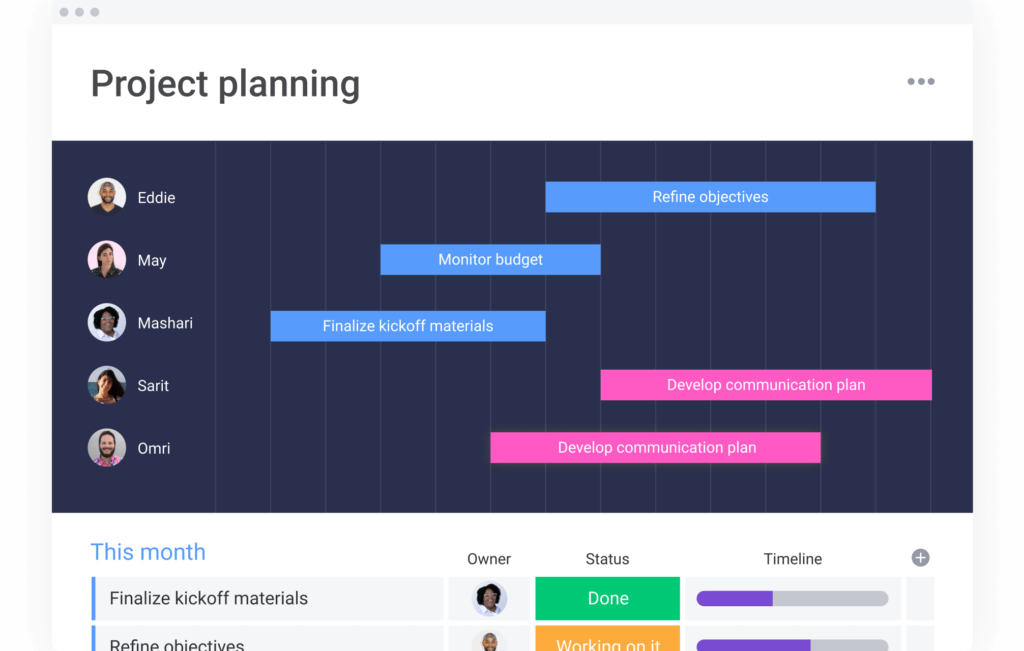 monday.com CRM is monday's sales prospecting module.
This free commercial prospecting software allows you to automate a large number of tasks such as customer follow-ups, to centralise all your contacts, to develop your pipeline and to follow the evolution of the performance of your sales representatives.
The tool is really very intuitive. In addition, monday.com has other modules such as project management and marketing management which will allow you to synchronise other departments than just sales.
monday.com CRM is a free tool and the first paid plan starts at 10$/month/user.
Lemlist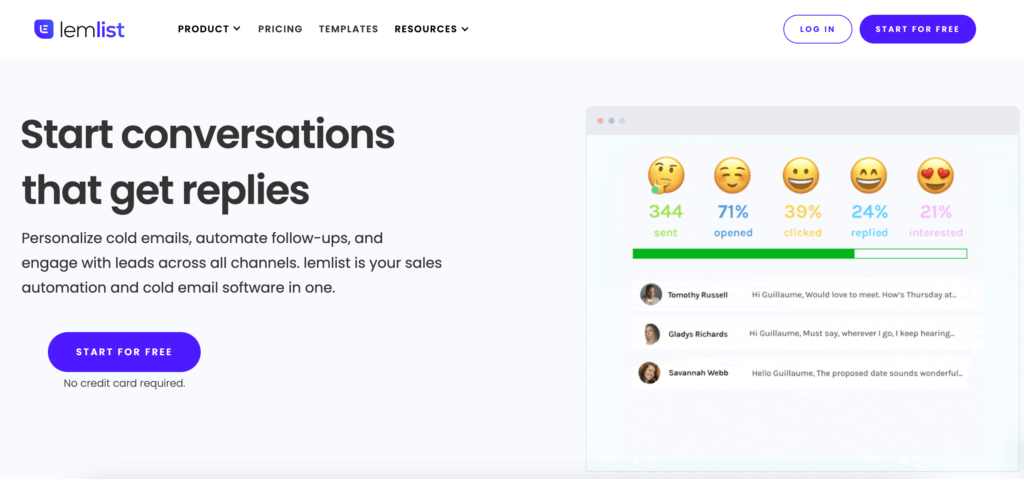 Lemlist is a tool specially designed for commercial prospection.
Lemlist is a free business development software specialised in cold emailing.
In other words, Lemlist is specialised in sending email campaigns to your prospects.
To do this, Lemlist provides a number of features such as Lemwarm, which allows you to warm up your domain to avoid spamming, allows large-scale personalisation of email campaigns, integrates Linkedin workflows, video personalisation and much more.
As you can see, Lemlist is a complete prospecting software that matches and exceeds the best of the best with innovative features.
Lemlist is one of the best sales prospecting tools on the market today.
Lemlist also offers predefined templates that allow you to design effective emails easily and quickly.
Finally, you can use the real-time analysis to get information on the performance of your email campaigns and take appropriate action accordingly.
The tool is very complete and innovative, we recommend you give it a try.
Sendinblue
Sendinblue is a powerful free business development software that offers extensive functionality to help businesses find new customers, retain existing ones and manage their contacts and marketing campaigns.
Sendinblue started out as email marketing software and quickly developed into a CRM module that allows you to centralise customer interactions and send bulk SMS and email campaigns.
Depending on your business objectives, Sendinblue's main features and functionality include:
Email and SMS marketing: create, manage and analyse your marketing campaigns.
Marketing automation: you can create automated campaigns to carry out your marketing projects and measure their performance.
Landing pages: create personalized and relevant landing pages optimized for conversion.
Advanced segmentation tools: analyse each contact or segment of contacts and discover their behaviour, preferences and interests.
CRM: manage your customer and prospect data and automate your sales pipeline.
Statistics and reporting: analyse the performance of your campaigns in real time to adjust your marketing strategies.
Sendinblue is an all-in-one marketing and prospecting solution that offers a wide variety of features, adapted to the needs of companies of all sizes.
Hunter.io
Hunter.io is a very powerful free business prospecting tool.
Hunter.io was originally developed around its email finder module. This means that with hunter, you can find the email of almost anyone and then approach them.
Hunter then expanded its functionality by offering the creation of cold emailing campaigns directly within the tool.
The platform is easy to use and will be more than sufficient if you are only doing email prospecting.
However, if you are into multi-channel marketing, you may prefer an all-in-one platform like Waalaxy.
Pipedrive
Pipedrive is a business development and CRM software that is designed for small and medium-sized businesses.
Pipedrive simplifies the prospecting process for businesses by providing them with a platform to organise and prioritise their prospects and by giving them tools to enable them to find new customers and retain them quickly.
In terms of functionality, it's similar to what Hubspot can offer, for example, with a powerful cold emailing module and outreach campaign management and automation.
You will be able to easily follow the life cycle of your leads through a clear pipe and you will analyse the performance of your team in a simple dashboard.
You will be able to break down your leads into transactions, accounts, and map your key accounts for example.
Pipedrive also offers other features such as quote, invoice and payment management, integrations with third party tools and customisable dashboards.
Pipedrive is now a recognised prospecting tool on the market.
The first paying plan starts at 14,9$/month.
Waalaxy
Waalaxy is a free multi-channel business development tool but specialised on Linkedin.
This powerful and French software (based in Montpellier), allows you to automate your prospecting on Linkedin by programming robots that will take control of your Linkedin profile.
On paper, very sexy, and delivers an impressive number of tasks from adding contacts, to automating Linkedin messages and more.
Waalaxy also has an email prospecting module and a module for finding key information about your prospects.
Waalaxy also has a Chrome extension that allows you to work directly from Linkedin and push information into the tool in one click.
In terms of pricing, Waalaxy offers a free forever plan which is ideal to start prospecting and get a quick ROI.
Salesloft
Salesloft is a US-based sales prospecting software.
Salesloft is the perfect mix between a CRM and a sales automation platform.
It provides companies with everything they need to prospect and generate leads for their business.
The Prospect offering is the most interesting for our use case here.
With Salesloft, you can create cross-channel sales campaigns via email, calls for example, and track performance simply.
Salesloft has a lot of integrations for example to synchronise your CRM in one click to avoid double data entry.
Read also: 7 Best Free SCRUM Tools for Agile Project Management
Why use business development software?
Using business development software is essential for any business that wants to grow quickly.
It can help you develop a better prospecting plan, easily find prospects and better understand their needs.
But let's face it, the number one benefit of prospecting software is making more money for your business.
By using a prospecting tool, you increase your chances of signing new customers and therefore growing your business.
As we've seen before, outreach can be done on many different channels today, from email to Linkedin to calls.
And there is bound to be one that will work for you :).
But that's not all!
Prospecting software can provide you with valuable information about your prospects and help you convert them into customers.
In addition, you can also track the progress of your campaigns and get accurate information about your prospects.
Standardizing prospecting will also make your sales team more consistent and efficient.
Prospecting software can help you plan your prospecting and better understand the market.
You can get information about your prospects and know who your best customers and targets are.
In short, a prospecting platform will help you get more leads, increase the chance of converting those leads into customers, and better understand your customers/prospects to increase the number of potential leads.
It's a virtuous circle that can quickly take hold if your sales team is effective.
How to pick a business development tool?
Selecting a business development tool can be a difficult choice as many factors come into play.
There are many options, each with its own advantages and disadvantages.
To help you choose the one that will work best for you, here are some tips to follow.
First, you should list the answers to these questions to help you narrow down your needs:
Do I need a multi-channel prospecting platform?
How many people will use the platform?
Do I want to prospect on Linkedin? By email? By phone?
Do I need to have extensive performance reporting?
What is the volume of emails/Linkedin messages/calls I want to make and per sales person?
By answering these questions, you will be able to define your project much more clearly and it will be much easier to choose between free and paid prospecting software.
Take the 3 that best answer this problem from our list and test the 3 solutions.
Read also :